Karbo can be mined directly from the company wallet. mining is possible on processors and video cards, with the first option is not very profitable due to low hashrate, so it is better to do it with the help of video cards. When GPU mining is used the CryptoNight algorithm. A day on the GTX 1060 can be mined about 1,5 KRB, hashrate 425 H/s, that is about one dollar.
The Main page of the site is informative. The information about Carbo is disclosed, which is when the project was launched.
At the top are the function buttons:
Download – run the program in the robot;
Application - displays information where to buy to exchange, where the currency is accepted for calculation (exchanges, exchange offices, cranes, shops, etc);
Information – is all the data about the karbovanets, the history of the development indicated by the helpful resources, community sites, etc.;
Observer – chart on growth, deals, rewards, deliveries, emissions, etc
there is Also the option to download an electronic purse for robots with krb, the button is located at the center of the page.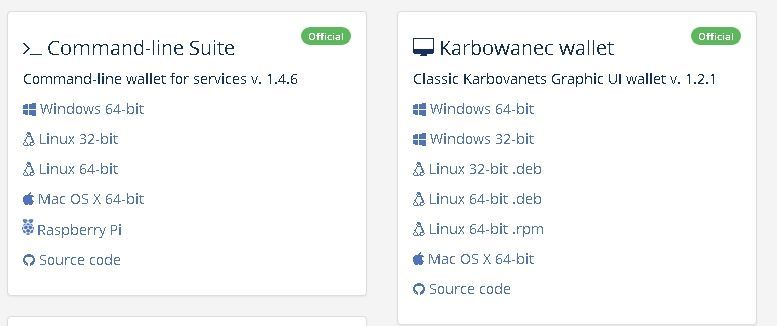 download Section allows you to download and install the e-wallet. It will give you the opportunity to have electronic money and transfer them without intermediaries, as in banks, and with the help of a network of Blockchain. By clicking the Download button you can select and download a wallet for your system.
several types of purses are offered to your attention:
Set of console - clients-clients to work at the command line for services v the. 1.4.6;
Karbowanec wallet - classic QT wallet Karbovanets v. 1.2.1;
Karbo wallet - New Karbo Qt wallet V. 2.0.0.
The interface of a classic wallet is no different from other cryptocurrency wallets.
Blockchain is downloaded quickly (on SSD — about three hours), you can choose to work through a remote site, so as not to wait for the whole chain to load, if the payment needs to be sent or received urgently.