According to the law of Metcalf, the value of the Karbovets network is proportional to the square of the number of active users, i.e. its cost depends on the supply and demand in the free market. If You are the owner of this e-currency, regardless of whether you use it or store it for the future, You contribute to its market value.
1
Krb rise and fall chart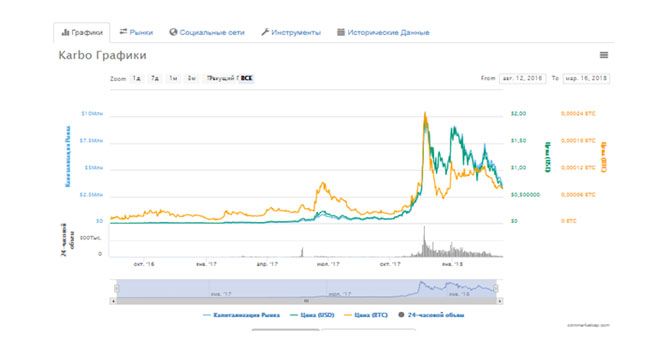 According to the schedule, you can see the progress in the growth of krb, its maximum level it reached 21.11.2017. Сoinmarket recorded the following values:
capital market: 9 901889 USD;
price (USD): 2,07;
price (BTC): 0,00025086;
24-hour exchange: 309 516 USD.
the Minimum values after peak growth are:
market capital: 5 USD; 463 014 USD;
price (USD): 1,10;
price (BTC): 0.000062;
24-hour exchange: 130 125 USD.
The Maximum rate of the Ukrainian cryptocurrency was $2, but now it has again dropped to $0.64. but for year the cost of krb grew, somewhere in 67 RA, that there is very well.
Although the course has now dropped decently, many say that Karbo has a promising future.